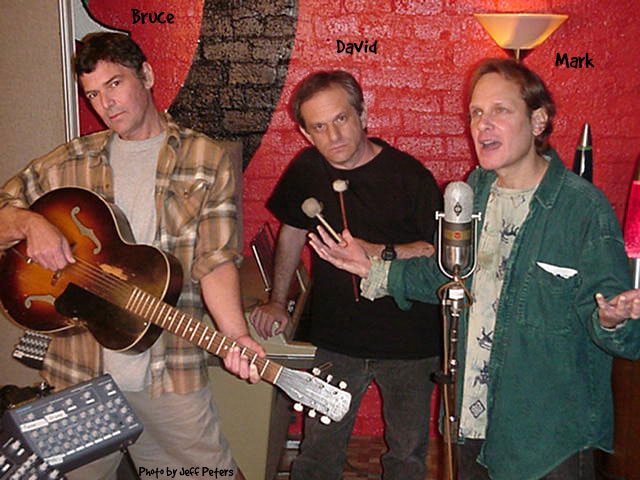 THE BEGINNING: Mark and David met in Chicago in 1970 and began working on a band called Brevity. Mark wrote for the band, but didn't perform. They both wound up in L.A. and formed Skooshny as a duo with revolving guitarists. In 1975, David met Bruce a few days before a session and invited him to sit in. The lineup stuck.
EARLY RELEASES: David, inspired by the new indie records market of the time, suggested to Mark that they form their own label, Alien Records, as a vehicle for Skooshny. They released a 4-song EP in 1978; a single followed in 1979. Both records were greeted with stunning reviews. Sales were lukewarm, due to the fact that Skooshny was a recording-only band, no live shows. Skooshny continued recording for a few more years and then broke up.
CLEANING THE CLOSET: In 1991, Greg Shaw of Bomp brought it to the band's attention that their old records were collectors' items in Europe. He put them in touch with Bill Forsyth at the Minus Zero Record Shop in London. Bill asked if they had any more copies. Yup. They were sent. They started selling and getting more great reviews. Bill asked if any unreleased tapes existed. Yup. They were sent. Bill decided to start a label, Minus Zero Records, to release a compilation of what had been sitting in David's closet for years. Great reviews. Decent sales. A second pressing.
REFORMATION: Skooshny then decided to reform and to go back into the studio. This was also the beginning of songwriting collaborations between Mark and Bruce. Next was a vinyl EP, then "Even My Eyes," an album of newly recorded material. More great reviews. More recording, which yielded the follow-up album, "Water."
ZOLOTO: David suggested looking for a domestic (U.S.) label to release a "best of" compilation, along with four new songs. The search was on, and Vibro-Phonic Recordings agreed to put out "Zoloto," (Russian for "Gold"). "Zoloto" spans 1976 to 2003 and covers the wide range of psych-folk-pop that Skooshny is known for.